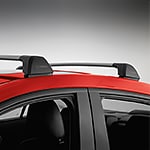 For Clarkston motorists who love taking long adventure trips, few accessories are more helpful than roof racks. Roof racks significantly increase a vehicle's available cargo space, and without taking any room away from passengers. At Bowman Commercial, we want to share three things that travelers should always be mindful of when driving with loaded roof racks.
Pay Attention to the Rack's Torque Settings
Take the time to read through your roof rack's user's manual and pay careful attention to the recommended torque settings. Over-tightening your rack can be just as detrimental as under-tightening it. An overly tight rack can cause serious vehicle damages.
Don't Overload Your Roof Rack
Although a large, cumbersome item might fit comfortably on your roof rack, this doesn't necessarily mean that it should be there. When assessing a rack's settings, find out what its weight limits are as well. If you aren't sure how much your total haul weighs, always err on the side of caution.
Load Your Rack With a Friend
Use smart strategies for loading your roof rack. Have a friend help by passing heavy items up to you. If you intend to pack a roof box or other heavy container, consider positioning it on the roof rack first and then loading it while it's already elevated. With these strategies, you can avoid damaging your vehicle and sustaining physical injuries.