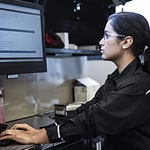 We here at Bowman Commercial want every driver in Clarkston to be fully informed on a wide range of vehicle ownership matters, and one of these important matters is automotive recalls. Recalls generally involve the safety or functionality of one of a vehicle's critical components, and they may be issued at the direction of the manufacturer or by regulatory authorities.
Some recalls are initiated because a vehicle maker or supplier discovers a problem with a manufacturing or assembly process that could affect the performance of the vehicle. Other recalls come about because governmental entities or industry safety authorities receive information regarding a hazard associated with a specific vehicle model or brand.
The formal recall process includes issuing press releases to the public as well as directly notifying past purchasers who may be impacted so that the problem can be addressed by replacing the faulty part at a factory-authorized service center.