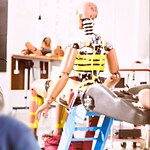 A car will always look better by its interior, engine capacity, horsepower, and all other capability features. But there comes a time when you have to choose between life and beauty. Being on a highway is never guaranteed of coming back safe. You need to ensure that your vehicle is designed to fit the purpose. Most of the time, you are the one to ensure that safety tests are done for the car. The question here is, who will you entrust to these services?
Every car must get some security rating in the US, no matter how expensive or advanced it is. The government and insurance companies need to evaluate the rating of a car and how safe it can be during a collision. NHTSA and IIHS are the only bodies that do the testing of vehicles to identify their safety ratings.
The five-star rating according to NHTSA says that a car has the best security features than any other on the road. However, it does not assure anyone that an accident might not harm you. IIHS will give a Top Most Rating, which means that you will have to have an excellent car to be allowed to drive.