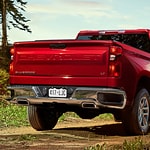 If you love to travel and need a big truck, our team at Bowman Commercial is ready to show off all of the tech features that will make your trips comfortable and relaxing! There is nothing like being able to sync your contacts and playlists with your Silverado 1500, so fumbling with your smartphone while you drive isn't necessary.
Once you have your contacts and music synced with your truck, you can make phone calls, access compatible apps with your voice, and play your favorite road trip songs! You can also use your voice to input addresses to your internet-based navigation, so you don't have to type it in for directions.
If you get hungry on the way home, use the Marketplace app on your touchscreen to order food for carryout. If you have smart devices compatible with Alexa, turn on the lights as you drive up in your Chevrolet Silverado 1500!