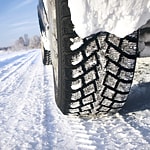 When you live in a region known for mild climates, all-season tires might be fine throughout the year. In places where the cold season gets harsh, winter tires might be the better option. Switching from all-season to winter tires at the appropriate time is an option. Doing so could add a little extra safety to winter driving.
Heavy snow and freezing rain present troubles on the road. A street's surface could become icy, leading to hazards. Snow/winter tires help address the conditions. Careful driving remains vital, as snowy and frozen roads present dangers. Winter tires provide enhanced gripping and traction, which offers an assist drivers.
All-season tires lack the added features of winter tires. Once winter ends, however, winter tires should come off. Winter tires aren't necessary during spring, summer, or fall. Going back to all-season tires might be wise.
At Bowman Commercial, we can help drivers looking to purchase tires. Our service department handles installation and balancing, too.