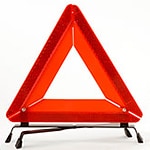 Preventative planning is key when determining how best to deal with emergency roadside situations. Consider the following steps the next time you find yourself in a compromising situation while out on the road:
Plan to Put Out Flashers: Having a set of flashers or triangles available to steer oncoming traffic away from you and your vehicle is a must for safety as you wait for help.
Plan to Move Your Car: Only if you are able, go ahead and move your car to the side of the road. Note that this might not be possible or even advisable in some cases, so please use your best discretion before doing so.
Plan to Call the Authorities: In the event of a severe crash or other unfortunate happening, you will want to alert the authorities right away.
Plan to Have Access to Essential While You Wait: Having snacks, water, first aid and other essentials on hand is supreme in emergency roadside situations.
All of this and more can lead to a safer, less worrisome experience if you ever find yourself stranded in an emergency roadside situation.