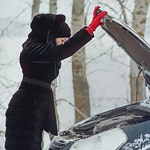 Prepare for the winter months ahead by equipping your car with a range of items that will help you in the event that you break down.
Handy things like jumper cables, a tow rope, flares, a flashlight, duct tape and a fire extinguisher should have a permanent place in your vehicle. In the winter, you can add extra items to fix a tire puncture, like foaming sealant, an electric tire pump, tools and a tire gauge. To stay warm and comfortable, include a blanket, snacks, water, a battery-powered cell phone charger, playing cards or books. If you become stuck in the snow or on slippery ice, it's a good idea to keep cat litter for traction and a shovel on hand.
You can find a range of vehicles that are excellent for winter driving when you visit Bowman Commercial. Arrange for a test drive or just speak to one of our vehicle specialists about our many model options.