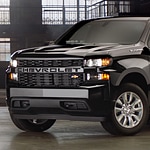 Chevrolet Silverado gives impressive performances because it is built with high standards. Below are its performance features;

Powerful engines
?Chevrolet Silverado has three powerful engines options that increase its performance.
4.3L V6 engine: its Horsepower is 285 at 5300 rpm.
5.3L V8 engine: it delivers 355 horsepower at 5600 rpm
6.2L V8 engine: produces 420 horsepower at 5600 rpm
Maximum available Towing
Depending on the engine option, here is the towing power you will receive;
4.3L V6 engine: 7,600 lbs.
5.3L V8 engine: 11,100 lbs.
6.2L V8 engine: 12,500 lbs.
Four-wheel drive (4WD)
With this performance feature, Chevrolet Silverado can handle all weather states and road conditions. Active fuel management makes it the best in class fuel economy.it is the best ideal car to ride because of its powerful engine performance, especially V8 Horsepower.